News from Queensland, Australia

Grower Solutions

Magazine
Lefroy Valley
Dec 2001

ANGIE BEST IN BUNDABERG TOMATO

TRIAL

In July this year 20 new and commercial tomato varieties were trialed at the Bundaberg DPI research farm with some outstanding performers emerging. With infections of Fusarium race 3 having effected commercial crops in the district over the last 12 - 18 months, focus for this trial was to compare performance of the recently released F3 resistant varieties to the standard lines.

Most tomato growers in the area visited the trial site to view and evaluate the varieties with some growers traveling from other regions to look at the varieties on display.

Conditions for the trial were warm at the time of planting in autumn with low to moderate rainfall in the early stages. Prior to maturity, conditions were very dry and cool with fluctuating temperatures.

How the varieties performed:

The first ranking of the F3 varieties was awarded to Angie (FA1431) due mainly to consistency in fruit uniformity and the high overall yield of the crop. Fruit size was quite large with a number of fruit measuring 180- 200 grams. Fruit size in the top of the plant was another category that Angie scored well on. Fruit do not have a green shoulder, which was another advantage, setting Angie above the rest. In commercial plantings and in the trials situated at the Bowen DPI last season Angie has consistently been ranked 1st.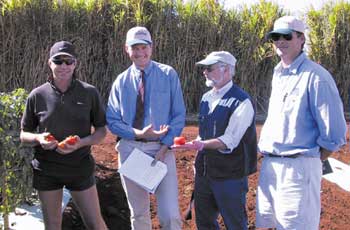 Bundaberg growers, Kevin Steinhardt & Andrew Philip discussing new tomato
varieties with Zvi Wener (Hazera Genetics) and Chris Newmarch (Lefroy Valley)
Ranked 2nd in the F3 section was the large fruited variety Belinda (FA 1432). Belinda displayed 2 outstanding strengths. The first is strong plant vigour making it suitable for difficult production periods, particularly coming out of cool weather or going into cool weather conditions where extra plant vigour is an advantage. The extra power of the plant seems to encourage large fruit size and the plants were able to hold very good size even in the top of the bush. Belinda should also suit growers who adopt minimal pruning practices of only 1- 2 times.
Of the standard F2 gourmet varieties the best performer was Gabriela (FA 593). Fruit numbers were high with very good uniformity and no green shoulder.
Trials of the new F3 varieties have been ongoing in the Bowen, Lockyer, and Bundaberg districts for the last 3 years and commercial production large-scale commenced in Bowen this season.
Although the varieties have the added advantage of resistance to Fusarium race 3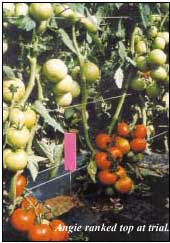 they offer growers who do not have a problem with F3 improved fruit size and consistency to compete with current F2 varieties.